*English version is preparing now!
It's very simple to broadcast Internet Radio on Buttobi-Wave.
Complete the settings in just 3 minutes and you can start broadcasting immediately!
Internet Radio Broadcasting Software Buttobi-Wave DJ has...
No need for complicated setup and settings!
Sound Effects and BGM that you can use when broadcasting!
Automatically controlled volume that makes it easy to listen to,
with high-quality sound!
Function to record and save your own broadcasts!

Buttobi-Wave DJ lets you enjoy making high-quality net radio broadcasts with surprising ease, and can be tried out right now!
Process to broadcast Internet Radio - Contents
1. Before preparing to broadcast
We have set general restrictions on the content of programs on Buttobi-Wave.
Please make sure to read the
Terms of Service
before broadcasting.
In particular, not just related to the following prohibited points regarding account deletion / prohibited use, unforeseen trouble can also occur. Please have fun with Internet Radio broadcasts while following the Prohibited Conducts and following the rules.
<Prohibited Conducts regarding music broadcasts>
Broadcasting of sound from commercially available CDs, etc.
Performance/singing of commercially available songs (not applicable when the creator has nullified the copyright.)

Broadcasting sounds from video games, television, and so forth.
Broadcasting songs composed or performed by others without permission from the copyright holder

These are prohibited
in most cases.
Although there are of course exceptions, if you will be broadcasting even just a little bit of music in your radio program, please make sure to read
About Music Copyright
.
2. What you need to broadcast Internet Radio
1. A PC using Windows and connected to the Internet
If you can see this page then there should be no problem.
2. A microphone or some other alternative
Although many people probably have microphones at home, for use with voice messaging programs and so forth, if you don't have a mic, do you have the headphones or earphones that you normally use to listen to music? These can actually also be used as a microphone. Try plugging them into the mic jack on your PC.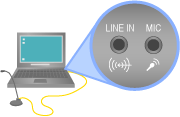 If you have a mic jack then make sure to connect it.
This is all you need.

3. Get a Buttobi.net account ID
* If you already have a account ID, please continue to
4. Install the Buttobi-Wave DJ broadcasting software
.
In order to broadcast with Buttobi-Wave, you need a
Buttobi.net account ID
.
Please carry out the user registration from the top left part of the
Buttobi.net
top page.

4. Install the broadcasting tool (*Now only available one written in Japanese)
Click the button below to download Buttobi-Wave DJ.

(msi format/1.9MB)

After the ButtobiWaveDJ0200.msi file has been downloaded, double click (open) it, and installation will start automatically.

Follow the on-screen instructions and click the "Next" button to continue.
Read the license agreement carefully, and if you agree to it, click "Yes" to continue.
Select where to install to. If you don't really understand then just click "Next".  
Installation of Buttobi-Wave DJ is complete.

Please download "lame-3.96.1.zip" from
this site
or
this site
(external link).
* "3.96.1" is the version, so this may differ.
* Although there may be lots of options for the same thing, it's fine to just download any of the ones that say "lame-3.96.1".

After "lame-3.96.1.zip" has download, please extract it.
* Please have a look
here
if you can't open .zip files.

From the extracted folder, please copy "lame_enc.dll".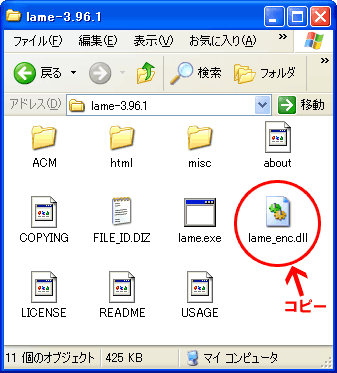 *
If lame_enc.dll is not displayed in the folder

Once you've copied it, open the folder to paste to.
Open the Windows Start Menu (normally at the bottom left of the screen), and click "Start" -> "Programs" -> "Buttobi-Wave DJ" -> "Open Folder".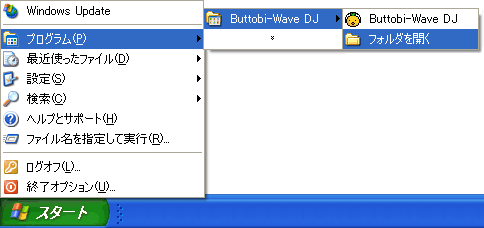 The folder Buttobi-Wave DJ has been installed to will be opened,
so please then paste the "lame_enc.dll" file that you copied earlier into it.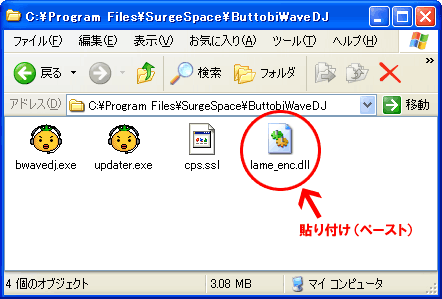 Good work! Installation of tools is now complete!
Next you need to make a couple of settings for broadcasting.

5. Prepare the microphone
If sound from the PC that you will broadcast with is set to come out of the speakers,
please make sure the speakers are unplugged/sounds are muted/headphones are plugged into the speaker lineout/etc, and make sure that
no sound comes out of the PC's speakers
before starting your broadcast.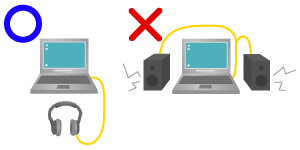 If sound comes out of the speakers then the microphone you are using to broadcast will also be picked up sound from the speakers , and there will be lots of noise making broadcasting impossible, and may also cause damage to your speakers and mic.
When monitoring your own broadcast (listening to your own broadcast), please do so
using headphones
.

6. Setting up Buttobi-Wave DJ
Double-click on

to open Buttobi-Wave DJ.
* The first time you run Buttobi-Wave DJ, it may take some time for the program to open. This is because Buttobi-Wave DJ is automatically upgrading itself. Please don't worry, as the next time you run it, it will open immediately.

If you've opened the program OK, please look at the top left. Enter these fields.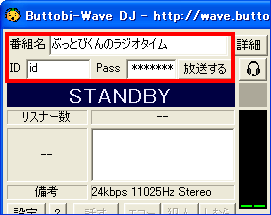 Program name: Please enter any program name that you like.
account ID: Enter the Buttobi.net account ID that you got at the start of this page.
Password: Enter the password for your account ID.

You're now able to
start making broadcasts!
Clicking the "Broadcast" button will connect you to the Buttobi-Wave broadcasting server, and your Internet Radio broadcast will start.
(To see if it's being broadcast with no problems, check Cherry Program from the top page.)
If you click the "Talk" button, the button will stay pressed, and will it is pressed any sounds that enter the microphone will be directly broadcast.
* Please watch out, as if you don't press the "Talk" button, the mic won't work!
When you want to finish the broadcast, click the "Broadcast" button once more, and the broadcast will finish.

Although you are already ready to make broadcasts, with Buttobi-Wave DJ you can also play BGM and music, add echo to sounds, record your own broadcasts...... various functions are included. If you have time, try out all the different functions.
Try using more of Buttobi-Wave DJ's functions! (Buttobi-Wave Manual)